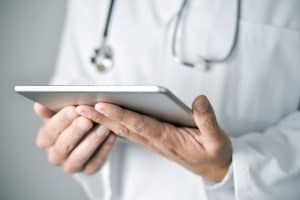 Technology has been advancing at such a rapid pace it seems it would only be a matter of time before it made its way into health care. The first aspects of technology changes were with the equipment used for examinations. Eventually computers became involved with the charting or medical records aspect but now there are computers that can do procedures as well. The next advancement with technology in medicine is something called Telemedicine. This is defined as the remote diagnosis and treatment of patients by means of telecommunications technology.
You may have seen some examples marketed on television or online or even received information from your insurance company in the mail about telemedicine. It also seems to encompass many forms of medicine, not just primary care medicine. In eye care this is true in that you can search online to see different companies offering forms of telemedicine. Most websites have information for 2 types of people, providers and consumers.
Some positive things about telemedcine include availability for the patient as far as having an exam or having a problem discussed and treated in the patients own time, decreased wait time to see a provider for acute issues, less cost overall for the patient and insurance companies with less ER visits, and better patient compliance and patient care quality as patients will let the doctor know of signs and symptoms sooner and if treatment is done sooner prognosis can be better.
Some negative things about telemedicine include reduced continuity of care as you likely won't see the same doctor every time, there is a greater chance for misdiagnosis and wrong treatments, doctors not having proper telemedicine technology in place and cost of such programs to providers, and reimbursement from insurance companies.
At Solinsky Eyecare, we do our best to stay up-to-date with the latest technological advancements in patient care but it still best to see one of our eye care professionals in person for a comprehensive eye exam to make sure things like diabetic retinopathy, glaucoma, macular degeneration, proper eyeglass and contact lens prescriptions, etc. Please follow our web site and social media outlets for further information when we will implement telemedicine into our practice to help out patients. Call (860) 233-2020 to schedule an appointment today.