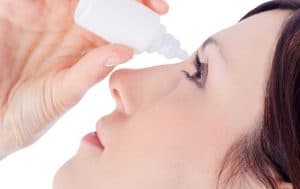 It seems there has been a relative stalemate with eyedrop options for treating glaucoma for quite a while.  Essentially there have been 4 classes of medication that doctors had options for.  Recently a new eyedrop has come to the market that works in a different way than the previous drops available.  The name of this drop is Vyzulta.  It is an eyedrop that is taken once per day at night and the overall effect is to lower the fluid that is produced in the eye.
This improves the ability of the fluid to drain from eye.  It works on two areas where the fluid can be drained.  The first area is the trabecular meshwork which is the primary route of drainage.  The second area is uveoscleral route which is a lesser used area of drainage from previous types of eyedrops.
This drop is also unique in that it comes to the doctors office and the pharmacy packaged cold and needs to be refrigerated until it is used.  After it is opened it no longer needs to be refrigerated.  As with most eyedrops it will take a while to get on insurance formularies but there are saver cards available for commercial insurances.
If you or someone you know has glaucoma and are looking for more information about Vyzulta and if it can help lower your eye pressure then call to schedule an appointment today with one of our highly trained doctors (860) 233-2020.