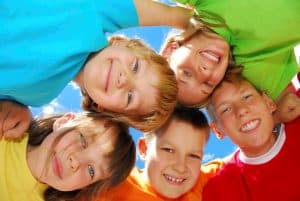 FAQ's regarding children's eye health:
1) When should parents begin (what age) to bring their child in for a routine eye exam?
It is recommended to have a childs first eye exam between the ages of 6-12 months with an InfantSEE provider who specializes in infant eye examinations.  The InfantSEE program is a national program where a child between the ages of 6-12 months get a free eye exam, even if they have insurance coverage.  The next time a child should have an eye examination is around 3 years of age and then between 4-5 years of age and every year going forward.
2) Seeing how back to school physicals are a common thing for students, does it make sense to also schedule an eye exam before school starts?
Yes it does make sense to schedule an eye examination prior to school starting as the vision screenings provided by a pediatrician or the school itself only test visual acuity which is how well a child can see an object from a specific distance away.  It does not test how well the eyes work together, it does not test color vision, it does not test stereopsis or depth perception, and it does not tell you if the structures of the eyes are healthy.  Also the manner of which the screenings are done may not tell the true vision of the child as the child may not understand letters yet or may not understand the directions given to them by the person administering the screening.  The vision screening is never a replacement for a comprehensive eye examination.  It is to merely flag any abnormalities the child may have so that they can be referred for a more thorough eye examination.
3) What are some common issues that younger children may have regarding their vision?
The typical things we see include needing to wear glasses because of nearsightedness, farsightedness, and astigmatism.  Specifically nearsightedness is increasing in prevalency with one of the factors being increased screen time on electronic devices such as smart phones, tablets, video game systems, to name a few.  It is also quite common to have one eye see better than the other where not only glasses are worn but an eyepatch or even specific eyedrops must be used to strengthen the weaker eye.  This condition is called Amblyopia. We also see many children that have an eye muscle that tends to move inward, outward, or up or down that is called Strabismus.  We will also see children that have issues with the eyes working together especially when looking up close.  These conditions have to do with the Accommodation and Vergence systems.  There can be issues with an insufficiency or excessive aspect of the child's visual system.
4) What should parents be on the look out for which might indicate their son/daughter might be having trouble with their vision? How can poor vision impact a child's school work?
The classic symptoms tend to be squinting of one or both eyes, complaints of headaches, especially frontal or in the back of their head, a head tilt to either side, rubbing their eyes or complaints of difficulty reading for long periods of time to name a few.
If a child can not see properly either from what their teacher is putting on the board or reading from a book then they will not be able to process the information correctly and struggle to learn.  Imagine being in a presentation for work where you can not see what the presenter is discussing and then go back to your boss and tell the, what you learned or try to read a computer screen where the letters move around and you can not keep your place.  You will not be able to learn very efficiently in either case.  I have seen many times where the correct eye treatment for a child who is struggling in school launches the child to either be at grade level or exceed grade level with reading ability and marked improvements in grades.
5) Do you have any advice or suggestions or maybe even tools in your practice that can help a child feel better about the exam, I am sure some might be a bit nervous.
Toys and stickers help quite a bit.  I have also found being very positive and friendly is quite helpful when you meet a child for the first time.  I will even take off my white coat if I get the sense that a child is very nervous about the exam as the white coat to a child usually means getting a shot.  We also have specific machines that can give us information with only a few seconds of cooperation as sometimes that is all I will get.  It is also helpful to be able to move around as children do not always sit still or look at a target for very long.  It also makes it seem like a game to some kids if you have fun with the exam with them.  Also include them in talking about your results if the child is not too young as this makes them feel part of the conversation and not just a bystander.  Finishing with stickers or even a toy trinket is a great way to leave a positive impression as well so the child will be less nervous the next time you see them.  
6) I was on your website and it looks as if there is quite a wide variety of styles of eye wear for children available, when making a selection for frames what should parents/child consider?
The selection for eyewear has grown exponentially from when I was a child.  Between having eyeglasses that can bend around and come back into place to the variety of colors and shapes and the fact that glasses are now a fashion accessory instead of just something to help you see makes it much easier to give the news that a child needs glasses.  I seem to get more kids crying as they leave because they do not need glasses than ones that do!  The thing to remember about the eyeglass frames is to get something sturdy and something that a child can grow into a little.  If you pick a size that is almost too small now think what it will look like in a couple months or so. You will be back getting new glasses before you know it.  Also there are many options for the lens material and coating as well.  I find the most important ones include the Anti-Glare coatings, specifically the blue light blocking coating and Transistions coating to help with light sensitivity outside.  These types of coatings usually come with scratch resistance and ultraviolet light protection.  Also you can get high impact resistant lenses that are safer with any impact including Polycarbonate, Trivex or High index