Recently, Connecticut has taken steps to become the 48th state allowing people to gain a driver's license through use of a bioptic telescope, opening new avenues to transportation for some people who are visually impaired. All of Connecticut's neighboring states (e.g., Massachusetts, Rhode Island, New York) already allow for driving with a bioptic telescope, each with different requirement details in place to ensure it is used safely. Read on to learn more about bioptic telescopes, how they are used, and how they could help you.
What is a bioptic?
A bioptic is a special type of telescope that is attached to the upper part of a sturdy pair of glasses. The telescope works by magnifying things that are far away so that they are easier to see, even with reduced vision. Since the telescope is attached to the upper edge of the glasses, people can look through their glasses lenses most of the time, and only look through the telescope when they need better detailed vision for far away. It is also hands-free, which is very important since driving requires two hands on the wheel!
How does bioptic driving work?
When driving with a bioptic telescope, the driver wears their special bioptic driving glasses. The lenses of the glasses contain their normal glasses prescription, and the telescope is mounted on the upper edge of the glasses. The large majority of the time, the driver is looking through their regular glasses lens. Occasionally, the driver will lower their head and look up into the telescope in order to see something far away in greater detail. Use of the telescope is only momentary, and then the patient resumes viewing through their glasses lenses. This is similar to how most drivers use rearview mirrors – a quick check and then back to looking straight ahead. Drivers need to practice with bioptic telescopes quite a bit prior to using them behind the wheel in order to use them safely.
Are bioptic telescopes safe to use?
Bioptic telescopes can be difficult to learn how to use, but with enough practice many drivers can use them safely. Drivers need to practice locating objects through the telescope prior to use behind the wheel. Sometimes training with a special driving instructor can be very helpful in gaining proficiency with use of a bioptic telescope while driving..

Who is a good candidate for a bioptic telescope?
Since bioptic telescopes work by making objects far away look bigger, they can help drivers to compensate for somewhat reduced vision. If someone has tunnel vision, a hemianopia, or other types of visual field  loss, a bioptic telescope may not be helpful. Also, sometimes if vision is very reduced, magnification with a bioptic telescope will not be sufficient to meet driving requirements. Bioptic telescopes also require practice to learn how to use and can be confusing to adjust to.
Bioptic telescopes are also used in other situations including in the classroom, workplace, and for certain hobbies. In these scenarios, whether a bioptic can help depends on the person and their goal.
How can I learn more?
If you are interested in learning more about how a bioptic telescope might help you, ask your eye doctor! They might refer you for a low vision evaluation, where a low vision specialist will evaluate your vision and provide advice on whether a bioptic telescope might be a good fit for you. If you and the specialist agree that a bioptic is a good choice for you, they can help to fit you with this custom telescope and develop a plan to help you use such a device to reclaim independence.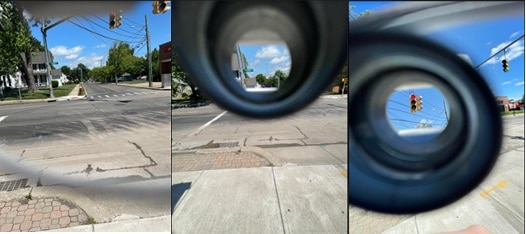 View of a busy intersection through a glasses lens (first picture) versus through a bioptic telescope (pictures two and three).