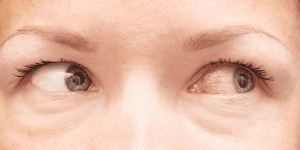 Pink eye, also known as conjunctivitis, is an infection of the white part of the eye that can cause excessive redness pain and swelling. Pink eye is very common and some types of it can be spread very easily. Some types of pink eye are very mild and will resolve on their own while other types of pink eye require medical treatment from a doctor.
So, what causes pink eye? Pink eye can either be due to an allergy exposure, bacteria or virus. Allergic conjunctivitis is usually self-limited and decreased exposure to the allergen can generally dampen the symptoms. A doctor may be able to prescribe or recommend antihistamine eye drops which can help to ease the symptoms of allergic conjunctivitis. Bacterial conjunctivitis commonly occurs in kids but can occur in anyone. This type of conjunctivitis requires an antibiotic eye drop in order to prevent the spread of infection and decreased vision. Viral conjunctivitis is the most common type and depending on the severity it can be treated with overthe-counter medications or may need prescription intervention. You are more likely to contract pink eye if you have been in contact with someone who has pink eye, recently had an upper respiratory tract infection, wear contact lenses or come into contact with something that you are allergic to.
Symptoms of pink eye include red, itchy and burning eyes. There may also be some discharge that can range from colored fluids to a clear watery discharge. There may also be crusting along the eyelashes and eyelids which can prevent your eyes from opening especially when you wake up. Other symptoms include swollen eyelids, sensitivity to lights, blurry vision and a foreign body sensation.
In order to prevent pink eye from spreading there are several different steps that you can take. The first is to wash your hands with soap and water. Hand washing should be practiced after you come in contact with someone that has pink eye or anything that the infected person has touched. Always wash your hands before touching your eyes. It is best practice to not share any personal items with someone who has pink eye which includes pillowcases, towels, makeup or glasses. If you have pink eyes, it is important to wash your hands with soap and water, especially after touching your own eyes or putting eye drops in. Try to avoid touching your eyes as much as possible. Using fresh tissues each time you need to touch your eyes is a good practice in order to prevent reinfection. If you are a contact lens wearer, avoid wearing contact lenses and when the infection is overthrow away all solutions, cases and contact lenses to prevent reinfection.
Most cases of pink eye will get better on their own. It is best to see an eye doctor if you are experiencing excess pain, discharge or blurry vision. Call 860-233-2020 if you notice any changes in the health of your eyes so that you can prevent the spread of infection early.