Serving eye care patients in Hartford, Enfield, Newington, & Vernon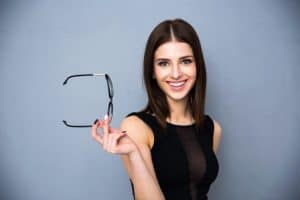 If you are tired of relying on glasses or contact lenses to see clearly, Solinsky EyeCare is proud to offer you an attractive alternative to vision correction. Laser in situ keratomileusis, more commonly referred to as LASIK, treats refractive errors by permanently changing the shape of the eye. The surgical modifications made during LASIK can provide you with exceptional vision and freedom from corrective eyewear.
At Solinsky EyeCare, we entrust our LASIK cases to the highly capable hands of Dr. David Jeng. Our Harvard and Yale-educated LASIK surgeon trained under the guidance of some of the world's leading authorities. His skill set and technical expertise allow us to help many patients seeking LASIK vision correction in and around Hartford.
What Does LASIK Treat?
LASIK is specifically designed to treat nearsightedness, farsightedness and astigmatism. These refractive errors occur when the cornea, or clear outer covering of the eye, is abnormally shaped. The irregularities prevent light from properly traveling through the eye and focusing correctly on the retina.
LASIK removes microscopic bits of corneal tissue to reshape the cornea. Doing so changes the way light travels through the eye to the retina and improves focusing power. The result is clearer, crisper vision with little to no need for corrective eyewear.
Candidates for LASIK
Every prospective candidate for LASIK meets with our team for a complete evaluation and consultation. You may be a suitable candidate for LASIK if you are at least 18 years old, in good general health and your eyes are free from any active infections or diseases. For the best results with LASIK, it is important that your vision prescription has been stable for at least six months at the time of your surgery. As we evaluate you for LASIK, we will also check your corneas to ensure they have sufficient thickness to withstand the modifications made during surgery.
Treatment Details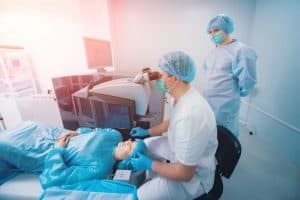 LASIK is performed on an outpatient basis, so you can return home shortly after your procedure to recover. Your eyes will be numbed with drops to prevent you from feeling any pain or discomfort. On average, the procedure takes about 5 to 15 minutes.
To begin the LASIK procedure, Dr. Jeng will create a flap in the outer layer of your corneal tissue. He will gently fold the flap back and use an excimer laser to reshape the underlying corneal tissue. After applying the laser treatment, Dr. Jeng will restore the flap to its original position over your eye, where it will heal on its own.
What Sets Our LASIK Technique Apart
With traditional LASIK, the first step of the procedure — the creation of the corneal flap — is performed using a surgical blade called a microkeratome. But at Solinsky EyeCare, we exclusively offer all-laser, or "bladeless," LASIK, meaning we use lasers to perform both critical steps of the procedure. We believe all-laser LASIK allows for more precise and predictable treatment and decreases the risk of some of the possible post-operative complications.
Recovering From LASIK
Significant pain is uncommon after LASIK. Your eyes may feel mildly irritated or scratchy for the rest of the day of your surgery. You will need to use special eyedrops to prevent infection and inflammation, and wear a shield for a few days when sleeping to avoid accidentally rubbing your eyes.
You can expect to see initial visual improvements as soon as the next day. Your results will continue to improve in the days following surgery.
For more information about undergoing LASIK at Solinsky EyeCare, please contact our practice today.
Solinsky EyeCare has 10 Convenient Locations Throughout the Hartford Area