Serving eye care patients in Hartford, Enfield, Newington, & Vernon
Solinsky Hearing Center, Inc. will provide you with all of the professionalism, integrity, quality, thoroughness and attention to detail that you deserve.
Our Hearing Center's Services:
Diagnostic Hearing Testing Services
First rate clinical staff
Large selections of the finest, most advanced, state-of-the-art digital, programmable hearing aids available on the market today at the most affordable prices in the greater Hartford area!
Satisfaction guaranteed!
Whether you already wear hearing aids or have never tried them, we offer live demonstrations while you are visiting with us.
Convenient payment options including 6 or 12 month no-interest financing.
Why are Hearing Services at Solinsky EyeCare
It's the perfect fit!
Here are some of the reasons why:
There is a very high correlation between vision loss and hearing loss in our older patients and a double negative when two sensory deficits occur at the same time.
Our patients have asked for these services ("now that you have helped me to see more clearly, can you help me to hear more clearly too?")
Hearing loss is the most common and most frequently undiagnosed, untreated medical condition in our patient population here at Solinsky EyeCare.
People with hearing loss put off a decision to get hearing help because they are either in denial or unaware of the fact that receiving treatment for hearing loss has the potential to literally transform their lives.
"If I had a hearing loss, my family doctor would have told me." Not necessarily! Studies indicate that only 14% of doctors routinely screen for hearing loss during a physical. Since most people with hearing loss hear pretty well in a quiet room (like a doctor's office), it can be difficult, if not impossible for your doctor to notice the problem.
90% of all cases can be diagnosed and treated right here at Solinsky Hearing Center Inc.
Meet our Hartford Hearing Center Audiologist and Hearing Specialist
"Although hearing loss is an invisible disorder it is one that can significantly impair our ability to communicate with the people around us. Difficulty with communication is linked to increased depression, anxiety and social isolation. My number one goal as an audiologist is to help my patients improve their hearing and quality of life by re-engaging with the people around them."
Ben Taylor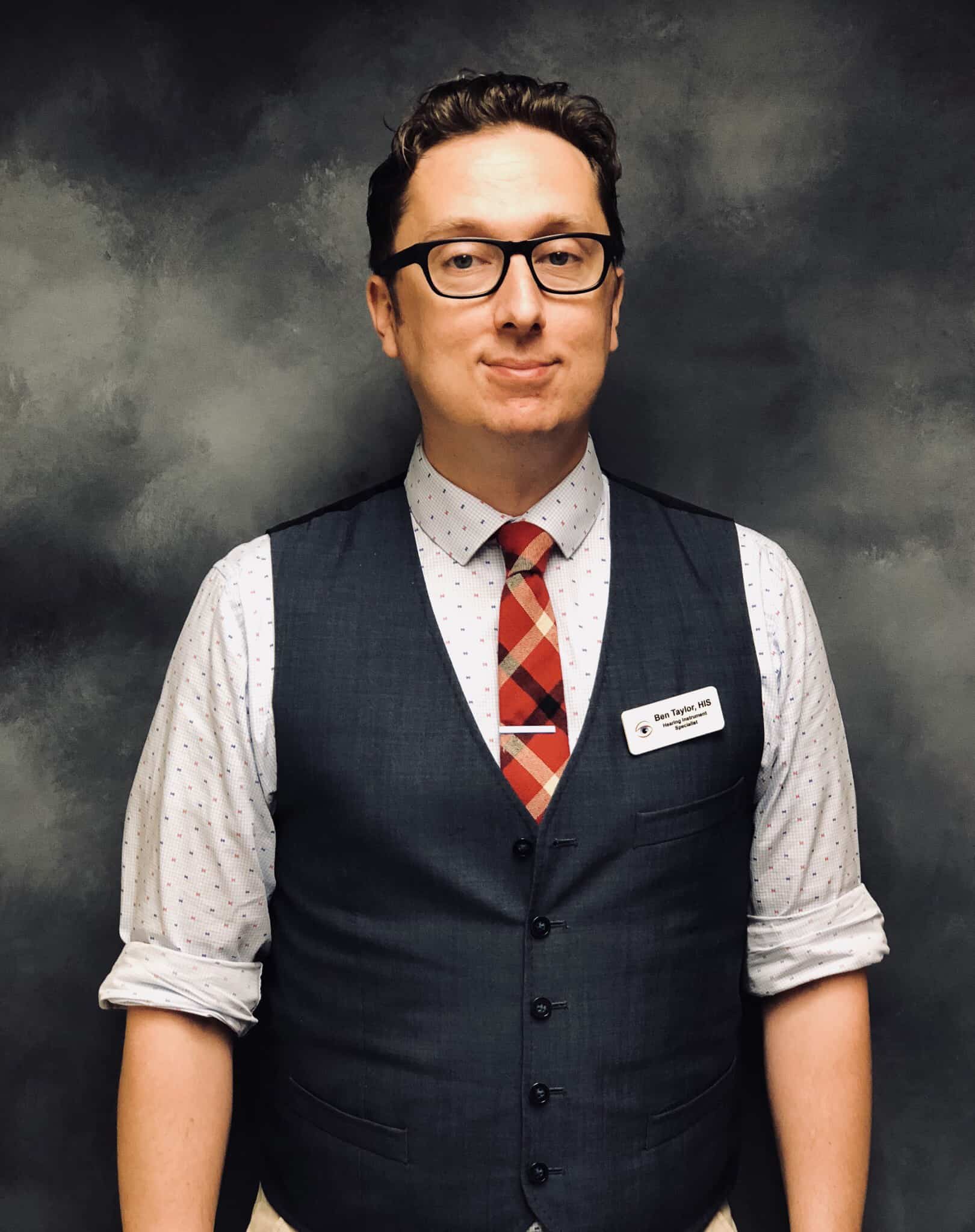 Ben is a second-generation Hearing Instrument Specialist. He began his career helping those suffering with hearing loss at his family's clinics in San Antonio, Texas. This is where it was instilled in him to treat and view each patient as a member of his own family.
He met his wife while they were both doing relief work after Hurricane Katrina and moved to New England shortly after they got married and are very happy to call it home.
Ben's genuine passion is to give people the gift of better hearing and he is entirely dedicated to utilizing his skill set, the latest technology and old-fashioned care and compassion to make sure his patients don't miss out on a single precious moment of their lives.
What should you expect from Solinsky Hearing Center's highest quality hearing aids?
For 90% of all hearing problems, hearing aids are the treatment of choice. The result in most cases is a significant, noticeable improvement in hearing clarity and understandability even in noisy places.
New "open fit" technology produces a more "natural" sound quality (no more plugged up, echo or down-in-a-barrel sound).
Hear more clearly on the telephone without whistling or feedback.
100 % digital, crisp, clear CD quality sound all the time.
Today's technology is programmable to your hearing loss…your hearing loss changes in the future.
New, modern designs are virtually invisible and so comfortable, you may even forget that you are wearing one.
Signs of Hearing Loss
Do you often ask people to repeat themselves?
Do you sometimes hear people talking but you don't understand the words?
Do you have difficulty communicating in noisy places like restaurants?
Do people's voices sound muffled or mumbly?
Do you misunderstand women and children's voices more frequently than men's voices?
Do you have the TV volume louder than normal so that you can understand the words?
Have you noticed a change in your memory?
Do you have ringing in your ears?
Do you have difficulty on the telephone?
If you answered "YES" to two or more questions, you may be having a hearing problem. While you are visiting us at Solinsky EyeCare, ask your doctor or patient care staff member about having your hearing tested.
You will be glad that you did.
Connecting Vision and Hearing Loss
Call today and schedule an appointment!
Like Solinsky Hearing Center on Facebook!
Solinsky EyeCare has 10 Convenient Locations Throughout the Hartford Area